Garland Metal Roofs Engineered for Strength, Functionality, and Virtually Limitless Design Possibilities.
Garland's metal solutions combine watertight integrity, aesthetic versatility, and intelligent sustainability to meet the widest possible range of functional and aesthetic requirements. Our flagship structural standing seam metal roofing system provides the highest performance in windstorm and water penetration in the industry. We also offer a complete range of metal trim, termination, and flashing systems, as well as fully integrated wall systems.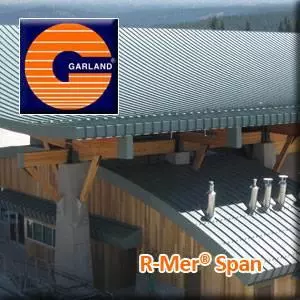 R-Mer Clad
R-Mer Clad is a strong and durable architectural standing seam roof system with a sleek seam profile that provides a high aesthetic appeal. When designed in conjunction with Garland's modified bitumen or fiberglass felt underlayments, R-Mer Clad is functionally sound even in the harshest environments. It is ideal for improving the appearance of historic renovations with slopes of 3 inches per foot or higher.
Product Advantages
Asymmetrical panel with 7/8″ high seam
Integral standing seam panel with no separate snap on cap
Flush profile
Curving capability down to a 5 foot radius (Ridge cap required)
R-Mer Loc
R-Mer Loc architectural and structural standing seam roof system is ideal for re-roof applications, mansards, and new construction. Its heavy duty, 18-gauge, one-piece concealed clip design accommodates thermal movement while the internal gutter/anti-siphon feature helps protect against the elements.

Product Advantages
Excellent spanning capability and architectural appeal
Accommodates thermal movement
3/8-inch high clearance between panel and substrate helps ventilation
Ideal for retrofits or new construction
R-Mer Loc LX
R-Mer Loc LX has a heavy duty, 18-gauge, one piece concealed clip design that accommodates thermal movement while the internal gutter/anti-siphon feature helps protect against the elements. This architectural and structural standing seam roof system is ideal for re-roof applications, mansards, and new construction.

Product Advantages
Excellent spanning capability and architectural appeal
Accommodates thermal movement
Internal gutter/anti-siphon feature helps protect against the elements
3/16-inch high clearance between panel and substrate helps ventilation
Factory installed hot melt sealant in-seam
R-Mer Seam
When designed in conjunction with Garland's modified bitumen or fiberglass felt underlayments, this architectural standing seam roof panel is functionally sound in even the harshest environments. It is ideal for design-driven applications, with a minimum slope of 3 inches per foot, requiring extensive curving or tapering capabilities or change-of-plane detailing.

Product Advantages
Two piece system; consisting of panel and cap
Factory-applied hot melt sealant in cap
Ideal for change-of-plane detailing
Curving capability down to a 6 foot radius
Tapered panels available
R-Mer Span
R-Mer Span structural standing seam roof system provides the highest performance in windstorm and water penetration in the industry. This premium metal system can be used on slopes down to 1/4-inch per foot for both retrofit and new construction and may be curved or tapered to fit the most creative of building architecture.

Product Advantages
Unlimited thermal movement
Mesas minimize appearance of "oil canning"
Panel/cap configuration contains four layers of steel
Hot melt sealant (water barrier) is completely isolated from clip
3/8-inch high clearance between panel and substrate helps ventilation
Ideal for retrofits over existing single-plies, BURs, modified bitumens or other metal roofs
Curving capability – Steel – 20 ft. radius; Aluminum – 10 ft. radius (tightest curving capability in the industry)
Garland's only standing seam panel offered in zinc